Your video will remain confidential and will be stored securely on our servers. Only the JALF validation team has access to it.
Why

certify

your profile
Improve your credibility. Demonstrate the seriousness of your approach. By certifying your profile, you prove to the JALF community that your profile reflects your person or your couple.
Increase your chances of meeting someone. Certified members receive more messages and more replies to their messages.
Unlock navigation in JALF Certified mode. Find other certified members to turn your fantasies into reality more easily.

I already certified my profile with a photo, do I need to certify my profile again?
We are currently deploying a new certification method for your JALF account, which will eventually replace the current certification.

The new certification method will make JALF a safer platform, since it will improve the credibility of the members and therefore, upgrade the user experience.
Your current certification is still valid.
However, we encourage you to have your profile recertified with the new method, since it will be mandatory shortly.
How to certify your profile
First, access the "Get certified" section on the site.
On mobile devices, this tab is in the mobile menu. You can access it by clicking on the three horizontal bars in the upper right corner of your screen.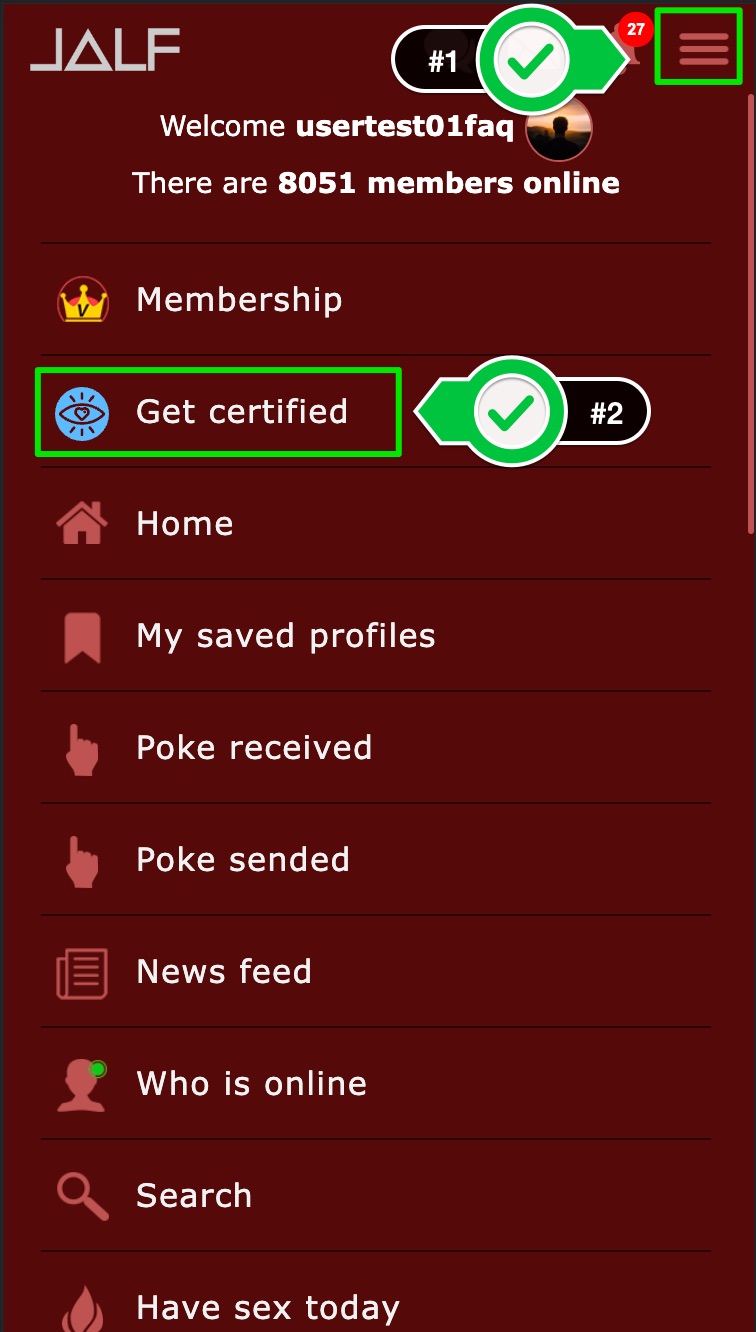 On the computer, the tab is in the left menu.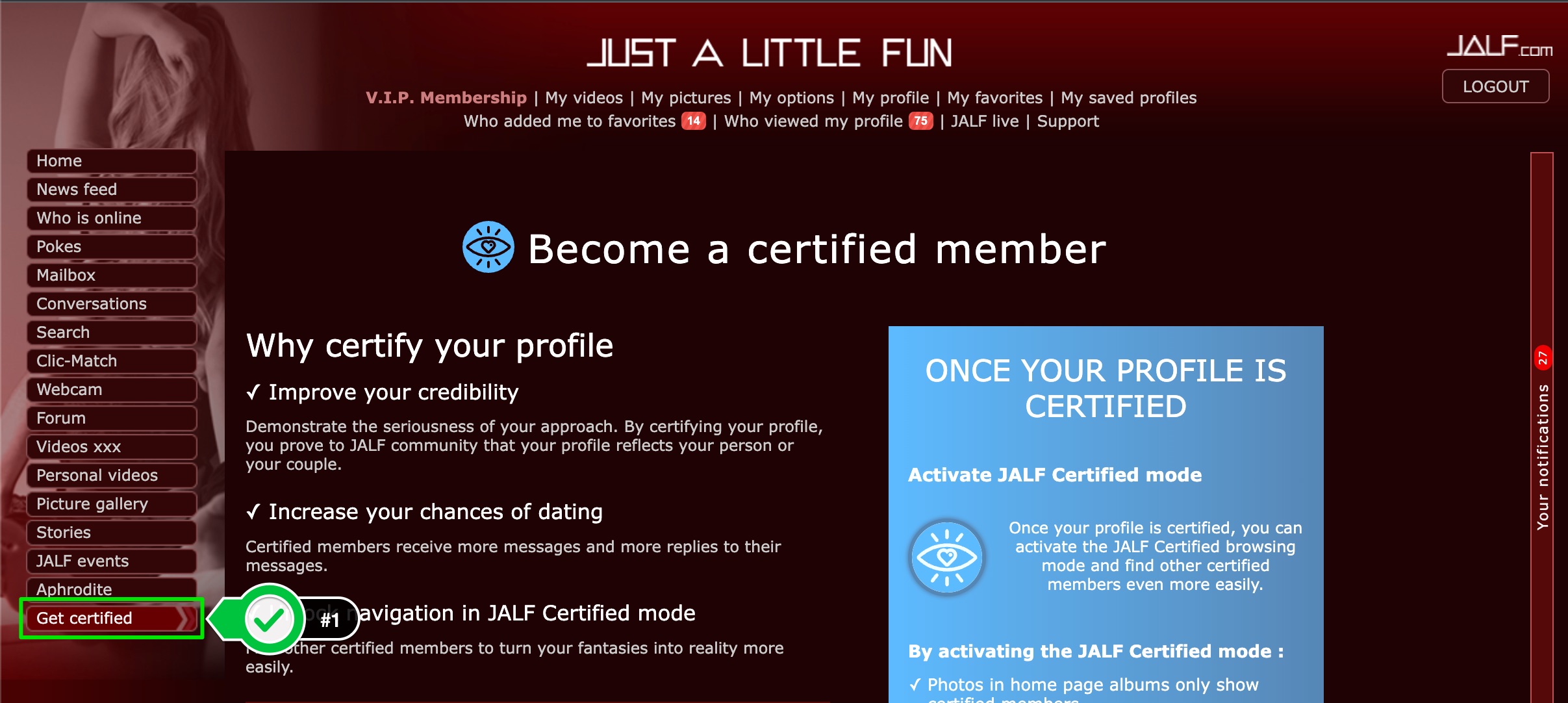 Mobile
Click on "Select file". You will have the option to choose a video that is already on your device or you will have the option to take a new video. The visual of these options differ from one device to another.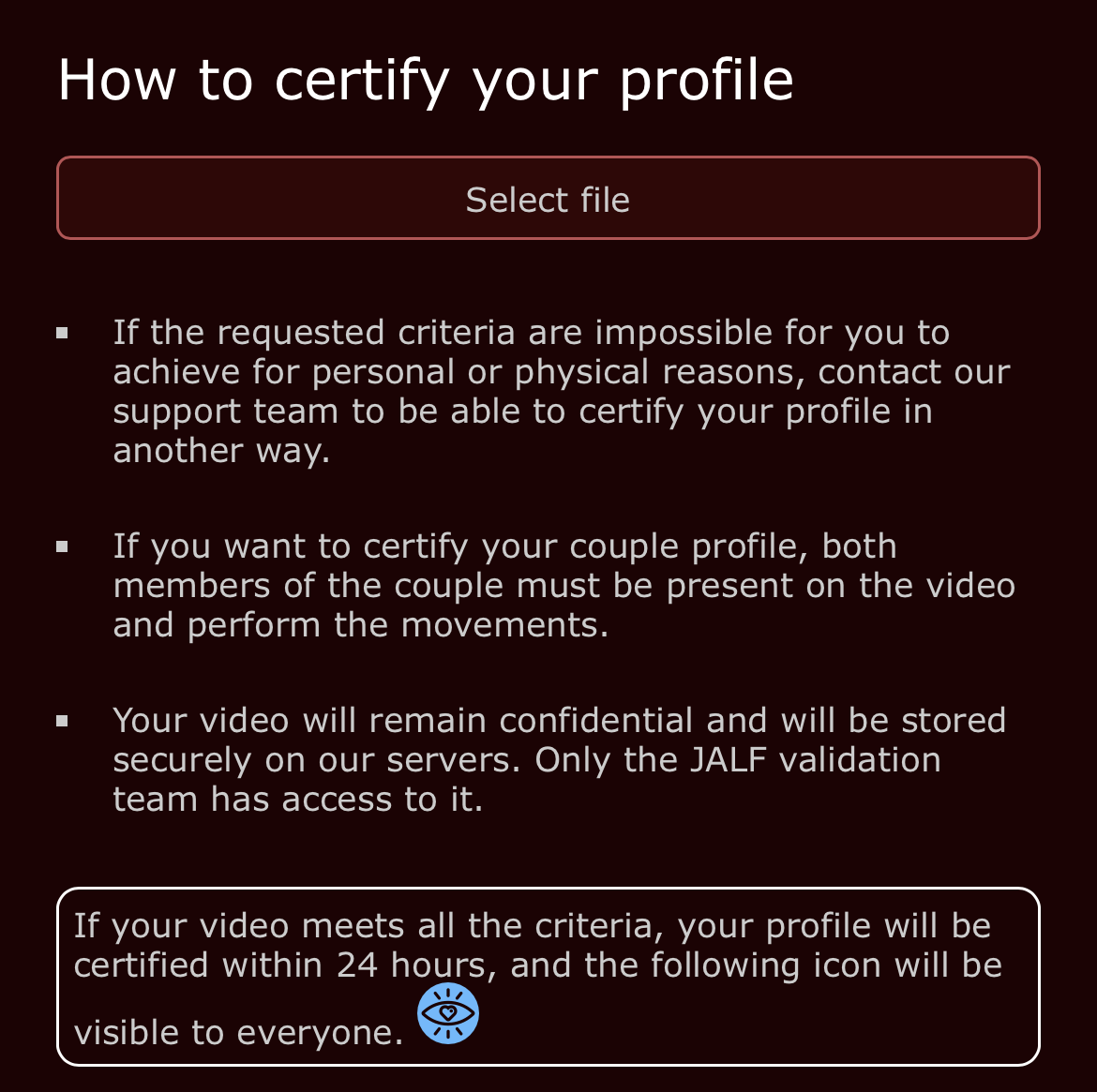 Desktop
If you use Google Chrome as your web browser, you will be able to take a video with your computer's webcam directly from JALF. If you use another web browser (example: Safari), you will only be able to select a file that is already on your computer.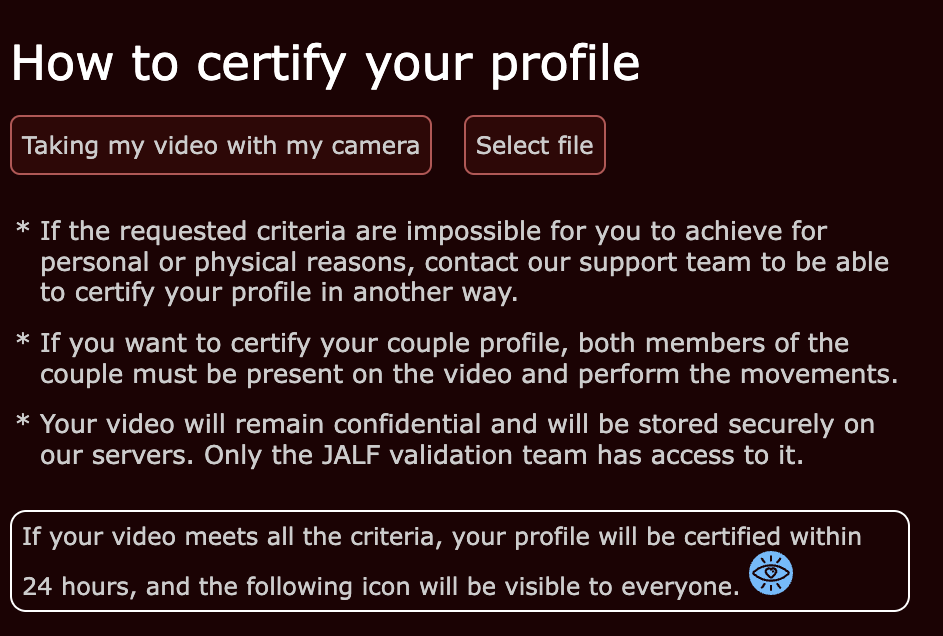 To download and install Google Chrome, visit this link: google.com/chrome
If you decide to use your webcam to record your video, click on "Taking my video with my camera". This will open a new window. Click on:
Record Video

Once the video is done, click on "View recording"

If you are satisfied with your video, click on "Upload"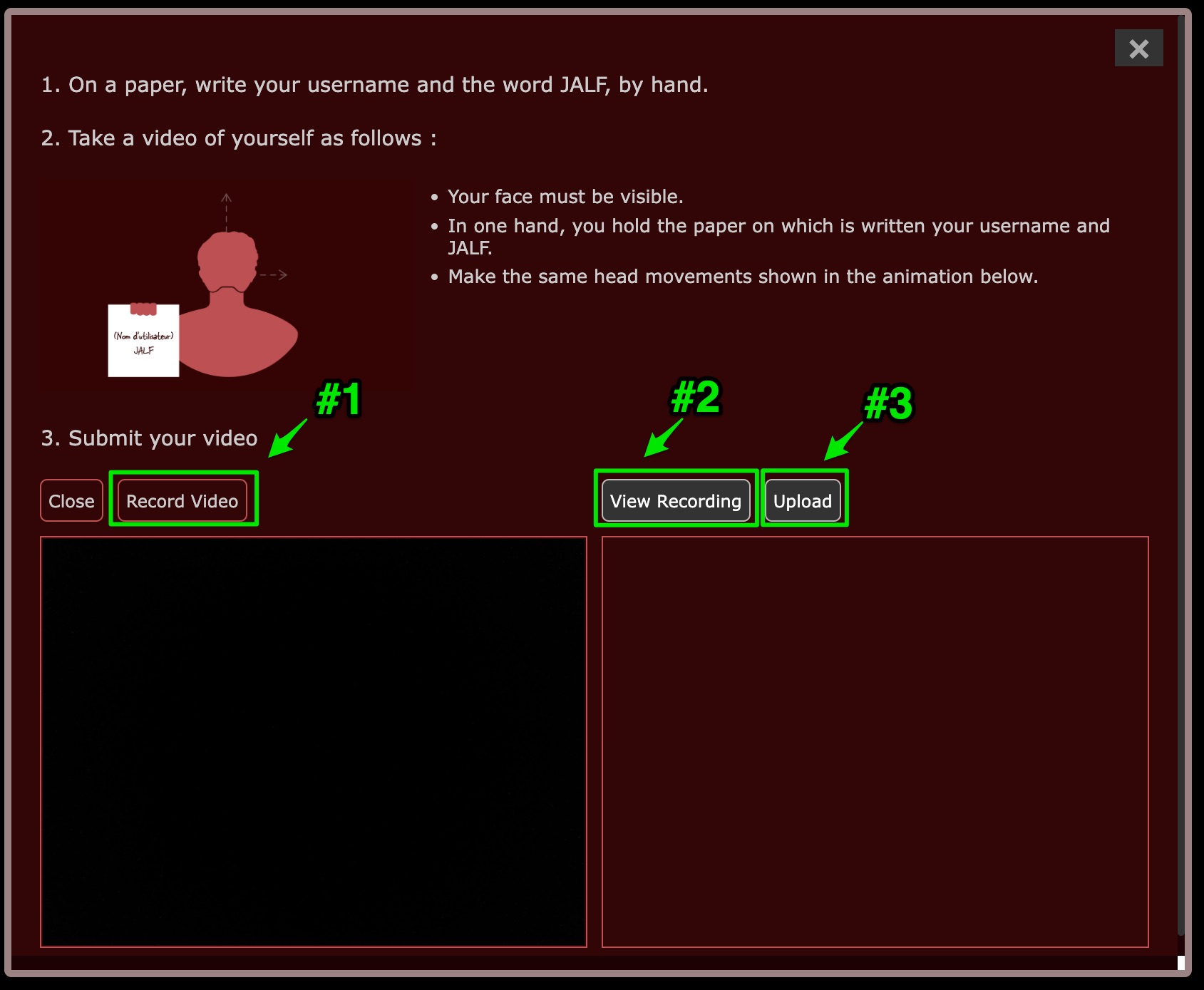 Instructions
On a paper, handwrite your username and the word JALF.
Take a video of yourself as follows : (See illustration)
Your face must be visible.

In one hand, you hold the paper on which is written your username and JALF.

Make the same head movements as shown in the animation below.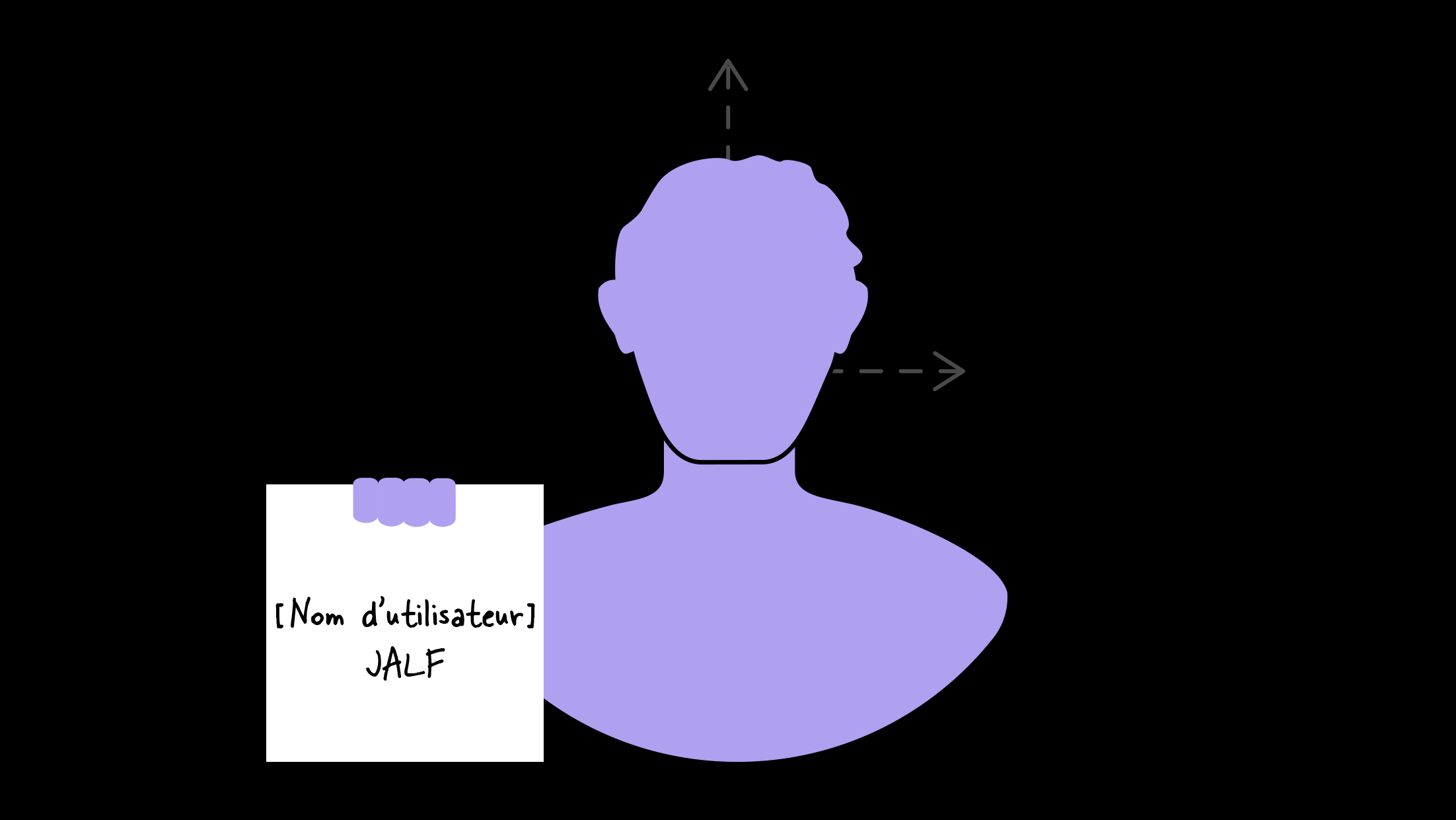 If the requested criteria are impossible for you to achieve for personal or physical reasons, contact our support team to be able to certify your profile a different way.

If you want to certify your couple profile, both members of the couple must be present on the video and perform the movements.

Your video will remain confidential and will be stored securely on our servers. Only the JALF validation team has access to it.
If your video meets all the criteria, your profile will be certified within 24 hours, and the icon of certification will be visible to everyone.